Coordinators:
Albert de Jong
Leon Kelder
Roland-Jan Buijs
Merijn Loeve
Mars Muusse
Cachinnans breeding in the Netherlands - breeding site characteristics
you can participate in this project too!
please send in your observations of colour ringed birds to: ring@buijsecoconsult.nl
LOCATION
Colony De Kreupel, the Netherlands (52°47'55.4"N 5°13'35.3"E).
Colony Lelystad, the Netherlands (52°30'36.17"N 005°25'11.70"E).
De Kreupel
When the route to Amsterdam harbour had to be deepened in 2004, sediment was used to construct artificial islands and to create a bird sanctuary, called "De Kreupel", about 4 km's north of the village of Andijk, situated in IJsselmeer. It developed into the largest Common Tern colony for Europe, but also some large gulls started to nest here. Starting season 2019, these large gulls were monitored in more detail, in particular breeding Caspian Gulls (Larus cachinnans).
Project "De Kreupel" is about 1500 x 500 meters and consists of approximately 20 hectares of bare sandbank surrounded by a belt of shallow water with occasional reed vegetation. In total, the nature reserve is about 70 hectares. During the construction, about 3 million m² of sand was used, from the Amsterdam-Lemmer waterway. This waterway has been deepened for ships up to a draft of 3.5 m.
Management of the project is coordinated by Staatsbosbeheer, and they aim to keep vegetation low to maintain the initial pioneer phase, to support and to the benefits of the large Common Tern colony. Every year, once the breeding season is over, Staatsbosbeheer visit De Kreupel to make the island "tree-free". With a shovel in the hand, they search for blackberries and small trees to remove all vegetation.
From April 10th, 2020 Staatsbosbeheer ranger Leon Kelder started to monitor nesting Caspian Gulls, placing coded sticks near the nests. Once located, the nests were photographed, the eggs were measured and photographed, and if possible the adults were photographed as well.
Lelystad
Colony located near Lelystad harbour on artificial breakwaters, a construction of tarmac and basalt blocks. Vegetation isscarce between the blocks, but some sections of the colony are positioned in very dense Blackberry vegetation, dense Reed, and small bushes (most Elderberries). Especially Caspian Gull cachinnans seems to prefer these densely vegetated areas, as do Spoonbills, while Lesser Black-backed Gulls prefer more open places on the tarmac sections (or maybe are forced to use these more open places as they arrive relatively late in the colony when best breeding locations are occupied already).

Codes for islands at colony De Kreupel.
NEST LOCATIONS: VEGETATION, COVERAGE & SUBSTRATE
For the moment we only have general descriptions for nest positions.
At colony De Kreupel nests are positioned on the flat clay-sandy areas. Early in the season these are barren flat conditions, and these areas may remain short vegetated by feeding geese. But other areas are soon covered by fast growing dense weeds, especially Fireweed (Chamaenerion angustifolium), Great Hairy Willowherb (Epilobium hirsutum), Cow Parsley (Anthriscus sylvestris), and Hemp-agrimony (Eupatorium cannabinum).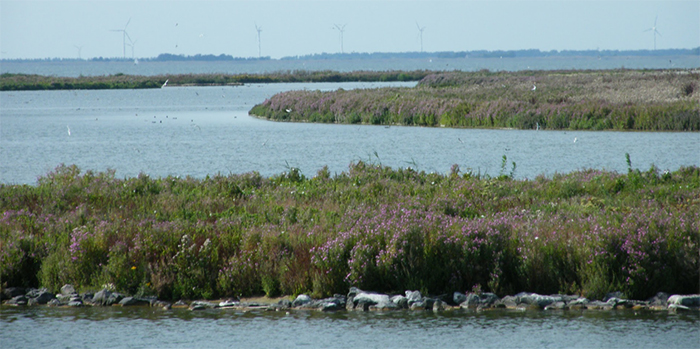 De Kreupel (picture: Jan Veldkamp). In summer, densely vegetated dams make it difficult to track down all juveniles.
For colony Lelystad the nests on the artificial breakwaters can be categorized in:
nests positioned between the blocks, which are by far most of the nests. All such nests are built with weed and herb stems, little branches, twigs, etc. Several birds take it the easy way, they just occupy an old Spoonbill nest.
a vast minority of nests are situated on tarmac, but there is a small cluster of such nests at dam 1 - south section (nests 58-64). Still, some vegetation is used as well to build these nests, including mosses.
For all nests at Lelystad there is cover in the near vicinity, commonly extensive bushes of Blackberry (Brama brama).
For neither colony De Kreupel nor colony Lelystad we classified individual nesting conditions with regard to vegetation, nor the relative position to other nests or species, nor did we classify hierarchy of nest location 'quality'.
Other studies (Camphuysen & Gronert) used categories to classify length of vegetation and coverage, which may be important for chick survival. Also, nest location within the colony, relatively to other nests, neighbours, etc may be relevant for chick survival and may reflect a hierarchy or dominance of an individual or pair. As Caspian Gulls are present in the colony relatively early in the season, compared to Lesser Black-backed and Herring Gulls, they may occupy what one may consider "the best nest locations". But do they? Logics suggests "best nest locations" to be the nests with highest fledging rate. But is it possible to adjust fledging rate for other parameters, like climate conditions, parent inexperience (parental quality), etc?
Note: in future we may consider placing fruit boxes near the nests, to increase catching chicks for ringing. These fruit boxes may be used as extra shelter and inevitably increase survival rate as well.
HUMAN ACTIVITIES & IMPACT
Background information on trap fishing and by-catches will be presented on page 'FOOD'.
Apart from recreation, which seldom happens on either De Kreupel or Llestad dams, not much of human impact on the colonies.
An important after-breeding food resource may be present at Oostvaardersplassen. Here, to stimulate creation of new reedbeds, water level is lowered in late-summer, leaving pools and shallow waters with mass dying Carp.
Species composition at Grote Plas - Oostvaardersplassen - feeding on dying Carp.
Date:
Caspian Gull:
Herring Gull:
Lesser Black-backed Gull:
.
.
.
.
.
.
.
.
.
.
.
.
VULNERABLE SPECIES
Apart from the gulls, other species breeding at Lelstad include Grey-lag Goose, Tufted Duck, Spoonbill, Little Egret, Stock Dove, and some passerines.
The Spoonbill colony (breeding estimation 55 in 2020, located on both breakwaters 1 and 2) is classified vulnerable in our country, and it's presence demand some careful planning of visits, as disturbance should be kept to a minimum.
2013
2014
2015
2016
2017
2018
2019
2020
2021
0
8
8
15
12
20
34
55
72
Number of breeding Spoonbills, counted from airplane. Such counts are hampered by dense vegetation and nests positioned almost on top of each other (plus white shit on stones and numerous white gulls). Yet, main trend clearly visible from data: increasing breeding numbers.

Locations of Caspian Gull colony "Lelystad" and colony "De Kreupel" in IJsselmeer, the Netherlands.