Coordinators:
Keith Mueller
Amar Ayyash
Mars Muusse
1cy June
1cy July
1cy Aug
1cy Sept
1cy Oct
1cy Nov
1cy Dec
2cy Jan
2cy Feb
2cy March
2cy April
2cy May
2cy June
2cy July
2cy Aug
2cy Sept
2cy Oct
2cy Nov
2cy Dec
3cy Jan
3cy Feb
3cy March
3cy April
3cy May
3cy June
3cy July
3cy Aug
3cy Sept
adult Jan
adult Feb
adult March
adult April
adult May
adult June
adult July
adult Aug
adult Sept
adult Oct
adult Nov
adult Dec
1st > 2nd cycle (2CY): June
Ring-billed Gull - Larus delawarensis. Description in "Gulls of North America, Europe, and Asia", by Klaus Malling Olsen & Hans Larsson, Princeton University Press.
This is a copy of the chapter on Ring-billed Gull, written by Klaus Malling Olsen. "I" in the text refer to the author. If you find any errors, please let me know at marsmuusse at gmail dot com.
Ring-billed Gull - Larus delawarensis
part 1: IDENTIFICATION of ADULT
part 2: IDENTIFICATION of JUVENILE
part 3: IDENTIFICATION of 1ST SUMMER - 3RD WINTER
part 4: VOICE, MOULT & DESCRIPTION ADULT
part 5: DESCRIPTION JUVENILE - 2ND SUMMER
below part 6: GEOGRAPHICAL VARIATION, DISTRIBUTION & MEASUREMENTS
GEOGRAPHICAL VARIATION
Negligible; considered least variable of N American gulls (C. Wilds in litt.). Comparing mean measurements, birds from Ontario had on average a smaller bill but longer tarsus than those from Michigan (Ontario mean bill male 41.9, female 37.7, tarsus male 66.2, female 61.4; Michigan mean bill male 44.3, female 40.9, tarsus male 58.7, female 55.8) (Stugart 1977, Ryder 1978). Further studies required. W American first-years tend to show more complete white underwing-coverts and axillaries than those from E Coast (own. obs., California, Mexico, New Jersey, Massachusetts).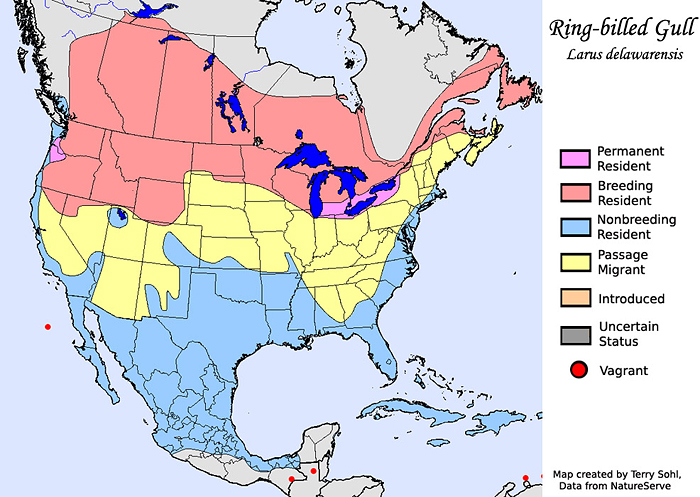 DISTRIBUTION AND MIGRATION
Population 1.5-2 million pairs. Breeds on islands in freshwater lakes and on wet meadows, often in large colonies. Large decrease during late nineteenth century followed by a dramatic increase; in Great Lakes 500,000 pairs considered a pest to other breeding birds. Increase probably caused by increase in fish prey species. Examples of increases (in pairs) are Little Galoo Island, Ontario: 20,000 1950, 74,000 1981; Lake Huron and Lake Michigan 27,000 1960, 150,000 1974. Also an increase in New England. Small population in prairie regions. Range expansion taking place in USA; first bred Colorado 1985 (Ludwig 1974, Blokpoel & Tessier 1986, Lock 1988, del Hoyo et al. 1996, Amer. Birds 41: 308).
Leaves breeding colonies mid July-early Aug, staying at Lake Erie and other lakes before further migration. Winter quarters reached from Sep. Migrates along rivers in interior USA to winter quarters in S USA, Great Lakes and St Lawrence River to coastal New Brunswick. Gatherings >200,000 Cleveland, 300,000 Lake Erie and tens of thousands in Appalachian region and Great Lakes, Oct-Dec, before freeze-up, eventually migrating over wide front to E coast, heading for Chesapeake Bay. In mild winters many stay e.g. 30,000 Pennsylvania, 20,000 Illinois/ Kentucky, >10,000 Ontario and >6,000 Appalachian Mountains. >10,000 winter in Florida with peaks every 5-6(10) years; >50% of winter population here from Great Lake regions. Also coasts and estuaries S to SE California, Greater Antilles and Mexico, where thousands winter (e.g. c.50,000 at night roost Salton Sea, Feb 2000). Main winter range for E population is N American Atlantic coastline between N Carolina and Florida. Max. 500,000 Cape Hatteras, N Carolina, late Dec/Jan, and max. 20,000 Virginia. W populations winter along the Pacific coastline S to Mexico and C America.
Spring migration occurs in late Feb-Apr, birds heading more directly towards breeding sites. Peak in New Jersey is in late Mar with max. day-counts of 5,000 at Cape May. Flocks of max. 20,000 in California. Casual in summer in Caribbean and in winter in Alaska; regular Hawaii (Southern 1974a & b, Nisbet 1978, Cramp & Simmons 1983, Hoogendoorn & Steinhaus 1990, Sibley 1993, pers. obs.).
Increasing winter visitor to W Europe; first recorded Azores 1945, Spain 1951 and Great Britain 1973. Now regular Great Britain (most numerous Nearctic vagrant gull); influxes of first-years 1980/ 81, 1984/ 85 and 1986/87; often followed by left-overs: 65% first-years 1981, 44% second-years 1982, 66% adults 1983. Annual average for Great Britain between 1958-1997 was 29, best year 1992 (103, mainly in SW). Most records are in mid-winter and spring; peak Mar-Apr, probably caused by birds heading N following wintering in areas further to S. Most summer records are second-years. Winter gatherings of max. 10 in W Ireland. Regular wintering France (max. 17 Jan-Mar 1999 and 25 Feb 2001), Iberian Peninsula (max. 18 Spain 1995/ 96; flocks of 10-15 on the Galician coast in the late 1990s), Azores (max. 50 1980 and flock of 56 Feb 2001); probably Morocco, Madeira and Canary Islands. Rare but regular Iceland (mainly spring-summer; 58 up to 2000) and Norway (29 up to 2000); indicates small migration route heading W from NE N America; summer occurrence probably a result of N migration following wintering E Atlantic. Germany 6, Belgium 11, Netherlands 7, Denmark 1, Sweden 12, Faeroe Islands 2, Poland 5. Furthermore vagrant to C and S Europe S to Italy, Albania and Bulgaria. Also Greenland 2, Senegal 1, S America 3, Galapagos 1 (Lack 1986, Small 1987, Hoogendoorn & Steinhaus 1990, Baillon & Dubois 1992, Poelmans 1992, BLIKI 1994, Boertmann 1994, Sorensen & Jensen 1994, Frainsson & Péturson 1997, Mitchell & Young 1997, Van den Berg & Bosman 1999, Fraser et al. 1999a & b, M. Elliott & A. T. Mjos in litt.).
Increasing numbers of summering birds, often displaying to Common Gull (observed Great Britain, Netherlands and Sweden (in latter case 1993-99)) indicates that Ring-billed may establish itself as breeding bird in W Europe.
There are several records of ringing recoveries of NE American birds in Europe. A bird ringed in Newfoundland spent several years in Norway and was eventually shot in Iceland (Mjos & Solheim 1995).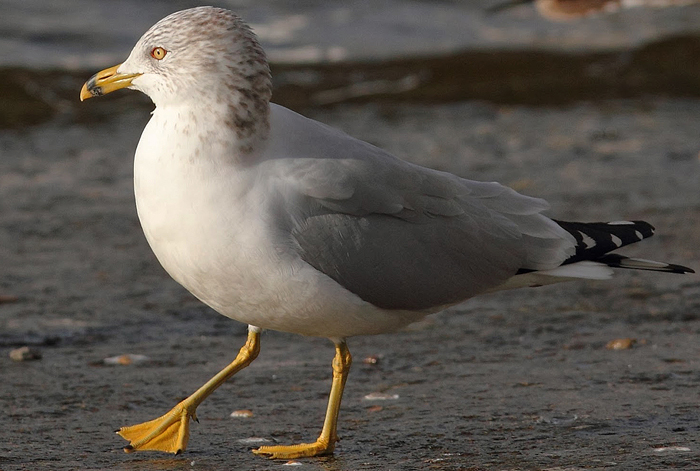 above: Ring-billed Gull delawarensis adult, January 30 2014, Limerick, Ireland. (Tom Tarpey).
MEASUREMENTS
Lengths in mm; weights in g.
Own data based on skins in AMNH, LACM, MCZ, NHM, NRK, USNM, ZMA, ZMO. North America, Mexico.
WING
Adult male
347-397 (378.2)
50
Adult female
335-385 (361.5)
46
First-year male
349-384 (367.4)
28
First-year female
326-384 (356.9)
51

BILL



Adult male
37.5-47.8 (41.3)
52
Adult female
34.6-43.0 (38.5)
49
First-year male
34.3-44.6 (39.5)
25
First-year female
33.6-43.9 (38.2)
49
BILL DEPTH AT GONYS
Adult male
12.9-14.8 (13.7)
51
Adult female
10.5-13.5 (12.6)
49
First-year male
10.5-14.2 (12.3)
29
First-year female
9.6-13.7 (12.1)
51

BILL DEPTH AT BASE OF BILL

Adult male
13.5-16.8 (14.9)
51
Adult female
11.6-15.0 (13.5)
49
First-year male
12.1-16.9 (13.4)
28
First-year female
11.1-15.5 (13.0)
51
GONYS LENGTH
Adult male
11.2-14.0 (13.1)
51
Adult female
11.0-13.7 (12.3)
49
First-year male
9.8-13.9 (12.2)
28
First—year female
10.2-14.2 (12.1)
51
TARSUS
Adult male
54.0-63.7 (57.9)
51
Adult female
50.0-61.2 (54.2)
49
First-year male
51.9-59.2 (55.6)
28
First-year female
48.3-58.1 (54.0)
51
Weight Adults 390-670, generally lighter in winter, when down to 331.8 in female. Juv./first-winter 288.6-496 (Glutz von Blotzheim & Bauer 1982, skins in ZMA).

Ring-billed Gull delawarensis 2nd PB moult (2CY), June 26 2011, Ballycastle, Ireland. Picture: Ian Dickey.