Home
Links to Gull Sites
Gull Taxa
Gull Topography
Grey & Colour Charts
Locations in NW Europe
Summaries of Articles
About ORG
@
hybrid Herring x Yellow-legged Gull (argenteus x michahellis) 4cy - 11cy PA (formerly EP29) Neeltje Jans, the Netherlands.
EP29 hatched in the Netherlands and ringed as pullus in the colony of Neeltje Jans on June 23 1997, most likely an offspring of a true male michahellis (ringed orange EAY8) and a female argenteus. Remember however that theoretically another individual could be the father. Nevertheless, some intermediate characteristics advocate a hybrid. The photographs are from the colony, where EP29 is surrounded by local Dutch argenteus. Note the relative tone of grey, compared to these local Herring Gulls. Another clue is the colour of the legs, which is slightly orangey-pink, unlike the whitish-pink or greyish-pink legs of argenteus.
From January to April, both 4cy argenteus and michahellis moult to so-called "third summer" plumage in a partial moult. This partial moult involves head and body. By April, the head and under-parts will appear all-white, as this individual clearly shows. The third generation tail-feathers, outer wing-coverts and primaries are not replaced; therefore most birds strongly resemble "third winter" birds in this respect, although the white primary tips wear away and dark patches start to bleach. The third generation primaries are clearly adult-like, with the inner primaries P1-P4 plain grey with a white tip. The outer-wing shows a clear black triangle, extending on the greater primary coverts. From P4 outwards, the primaries show a black sub-terminal band. The white primary tips are obvious in the inner primaries, but often smaller on P9 and P10. P10 has a small white mirror (lacking in some birds). The new tail-feathers will be white, with clear immature black markings. The iris is often yellowish (with dark speckling), the orbital ring yellowish-orange in argenteus and the bill predominantly yellow with a red gonydeal spot and limited black markings along the culmen by April.
Below: 4cy EP29 (argenteus x michahellis), April 02 2000, Neeltje Jans, the Netherlands. Pictures by Pim Wolf.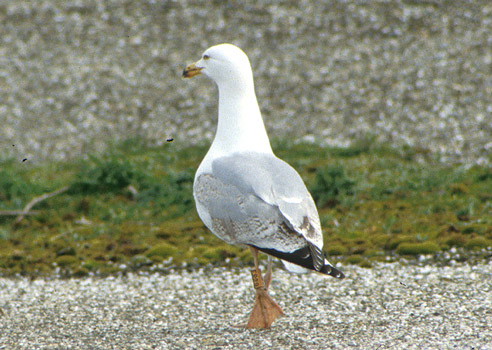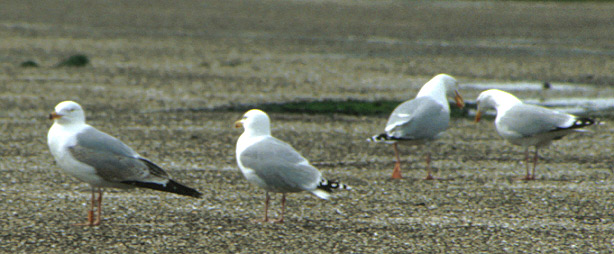 below: 10cy PA (argenteus x michahellis), May 07 2006.
EP29 was re-ringed today. Kodak grey 7.0 on upperparts.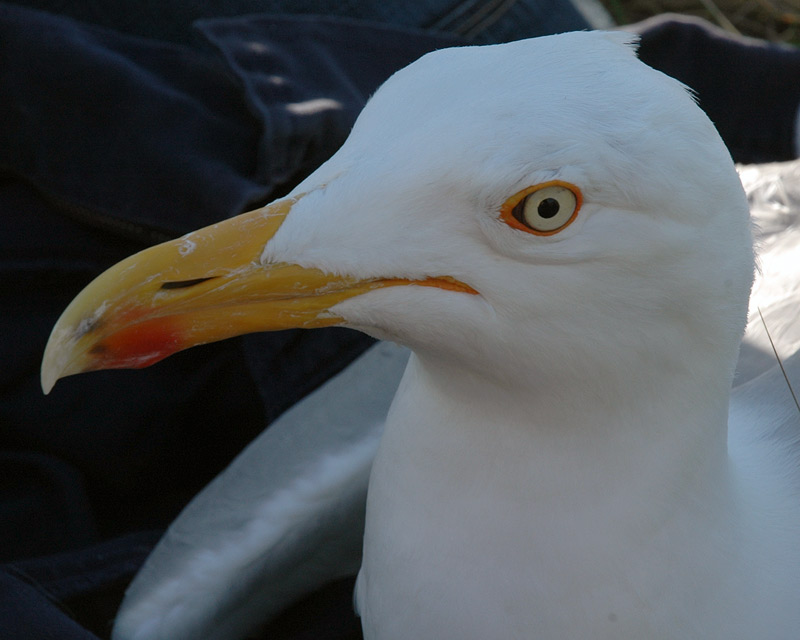 below: 11cy PA (argenteus x michahellis), March 10 2007. Pictures: Ies Meulmeester.
below: 11cy PA (argenteus x michahellis), May 06 2007. Pictures: Pim Wolf.
Link to 3cy michahellis in May.
Link to hybrid

EP30

3cy argenteus x michahellis in October & November.
Link to 4cy michahellis in January.
Link to hybrid

EV65

4cy argenteus x michahellis in April.