<
Mediterranean Gull adult
37H0

August 02 2010, Le Portel / Boulogne-sur-Mer, NW France. Picture: Jean-Michel Sauvage.

Bird from Belgium. Ringed as breeding adult (>3cy) on the nest: Bruxelles E911616. Ringed on 13 May 2007 at Zandvlietsluis, Antwerpen, BELGIUM (51,2N 4,17E).

From June to September, a complete moult takes place, into so-called "adult winter" plumage. The head pattern resembles the pattern in first winter birds, with blackish mask behind the eye. The mantle, scapulars, tertials and all the wing-coverts are replaced for plain pearl-grey feathers. The secondaries are completely white. The adult primaries are shiny pearly-grey, flashing white at a distance. There is a black line along the outer-web of P10 (and sometimes on P9 as well). Secondaries, under-wing and tail all completely white. The bare part coloration in adult plumage: Iris brown, orbital ring red or orangey-red, the bill red or orangey-red with a black bill-band and a yellowish tip and the legs dull reddish or dark. There is some variation in 3cy and 4cy wing-tip patterns.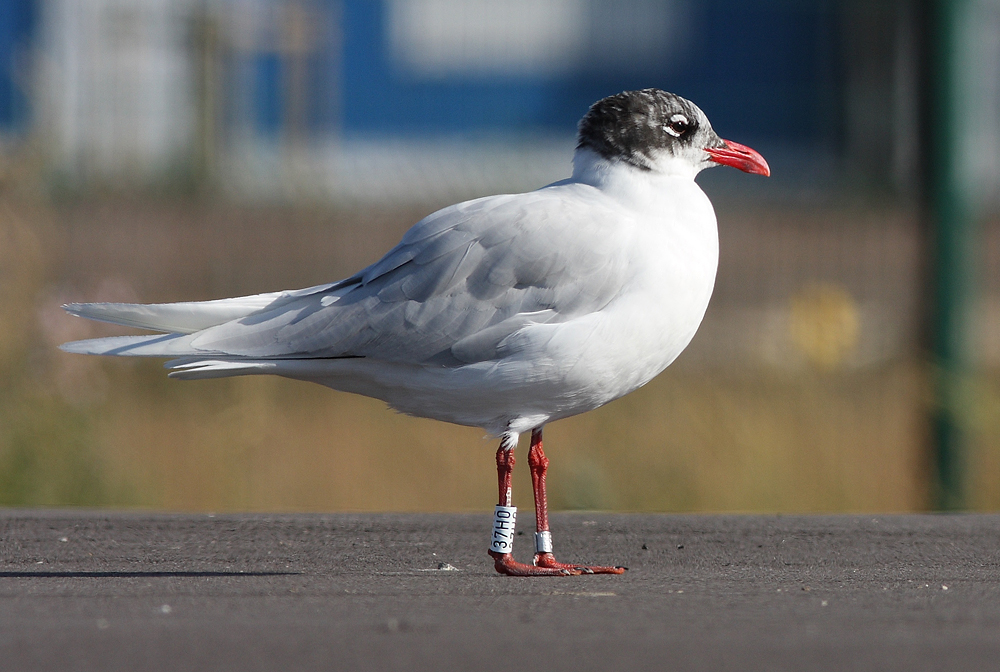 Life history:
Sightings for individual: 16965
v 23/06/2007Oye Plage, Les Huttes d'Oye, Pas-de-Calais, FRANCE 50,59N 2,03EDe Smet, W
v 31/07/2007Le Portel, APO Petit Port, Pas-de-Calais, FRANCE 50,43N 1,35EDuponcheel, C
v 31/07/2007Le Portel, APO Petit Port, Pas-de-Calais, FRANCE 50,43N 1,35EFlamant, R
v 02/08/2007Boulogne-sur-Mer, Plage, Pas-de-Calais, FRANCE 50,44N 1,36EDuponcheel
v 02/08/2007Boulogne-sur-Mer, Plage, Pas-de-Calais, FRANCE 50,44N 1,36EFlamant R
v 31/08/2007Wissant, Pas-de-Calais, FRANCE 50,53N 1,4EDuponcheel, C
v 14/09/2007Wissant, Pas-de-Calais, FRANCE 50,53N 1,4EDuponcheel, C
v 14/09/2007Wissant, Pas-de-Calais, FRANCE 50,53N 1,4ELaignel, J
v 30/09/2007Wissant, Pas-de-Calais, FRANCE 50,53N 1,4EGosset, C
v 30/09/2007Wissant, Pas-de-Calais, FRANCE 50,53N 1,4ELaignel, J
v 26/03/2008Oye Plage, Les Huttes d'Oye, Pas-de-Calais, FRANCE 50,59N 2,03ESibille, A
v 20/04/2008Oye Plage, Les Huttes d'Oye, Pas-de-Calais, FRANCE 50,59N 2,03ESauvage, JM
v 26/04/2008Oye Plage, Les Huttes d'Oye, Pas-de-Calais, FRANCE 50,59N 2,03ESauvage, JM
v 01/08/2008Le Portel, Pas-de-Calais, FRANCE 50,42N 1,34EDuponcheel, C
v 01/08/2008Le Portel, Pas-de-Calais, FRANCE 50,42N 1,34EFlamant, R
v 02/08/2008Le Portel, Pas-de-Calais, FRANCE 50,42N 1,34EDuponcheel, C
v 03/08/2008Le Portel, Pas-de-Calais, FRANCE 50,42N 1,34EFlamant, R
v 21/09/2008Wimereux, Plage Nord, Pas-de-Calais, FRANCE 50,46N 1,37EDuborper, J P
v 21/09/2008Wimereux, Plage Nord, Pas-de-Calais, FRANCE 50,46N 1,37ELaignel, J
v 22/09/2008Wimereux, Plage Nord, Pas-de-Calais, FRANCE 50,46N 1,37ELaignel, J
v 26/03/2009Oostburg, Sophiapolder, Zeeland, NL 51,19N 3,28EHamelinck, W
v 03/04/2009Oostburg, Sophiapolder, Zeeland, NL 51,19N 3,28ELuiten, T
v 03/04/2009Oostburg, Sophiapolder, Zeeland, NL 51,19N 3,28EWolf, P A.
v 04/04/2009Oostburg, Sophiapolder, Zeeland, NL 51,19N 3,28ELilipaly, S
v 07/04/2009Oostburg, Sophiapolder, Zeeland, NL 51,19N 3,28EHamelinck, W
v 13/04/2009Oostburg, Sophiapolder, Zeeland, NL 51,19N 3,28EHamelinck, W
v 23/07/2009Le Portel, Pas-de-Calais, FRANCE 50,42N 1,34ELaignel, J
v 23/07/2009Le Portel, Pas-de-Calais, FRANCE 50,42N 1,34EDuponcheel, C
v 25/07/2009Le Portel, Pas-de-Calais, FRANCE 50,42N 1,34ELorthiois, M
v 25/07/2009Le Portel, Pas-de-Calais, FRANCE 50,42N 1,34ELaignel, J
v 25/07/2009Le Portel, Pas-de-Calais, FRANCE 50,42N 1,34EDuponcheel, C
v 25/07/2009Le Portel, Pas-de-Calais, FRANCE 50,42N 1,34EFlamant, R
v 26/07/2009Le Portel, Pas-de-Calais, FRANCE 50,42N 1,34ECavalier, F
v 08/08/2009Le Portel, Pas-de-Calais, FRANCE 50,42N 1,34EVan Huffelen, H J
v 23/03/2010Oostburg, Schoondijke, Zeeland, NL 51,21N 3,25EDe Smet, W
v 30/03/2010Breskens, Voorland Nummer Een, Zeeland, NL 51,23N 3,38EWolf, P A.
v 24/07/2010Le Portel, Pas-de-Calais, FRANCE 50,42N 1,34ELaignel, J
v 01/08/2010Boulogne-sur-Mer, Pas-de-Calais, FRANCE 50,43N 1,37ESauvage, J M