American Herring Gull (smithsonianus) adult
AAF

June & October 2011 & January 2012. Picture: Ingrid Pollet.

See for project info the website of: SABLE ISLAND GULLS

AAF was banded June 09 2011, on Sable Island. This was an adult female captured at the breeding colony during the incubation period. Since the breeding season, she was spotted twice in early October at Beacon St. Dam in Glace Bay, Nova Scotia.

Coordinator for this project: Rob Ronconi - Halifax, NS.
below:
AAF

June 15 2011, Sable Island, Nova Scotia. Picture: Ingrid Pollet.

Early stage of complete moult.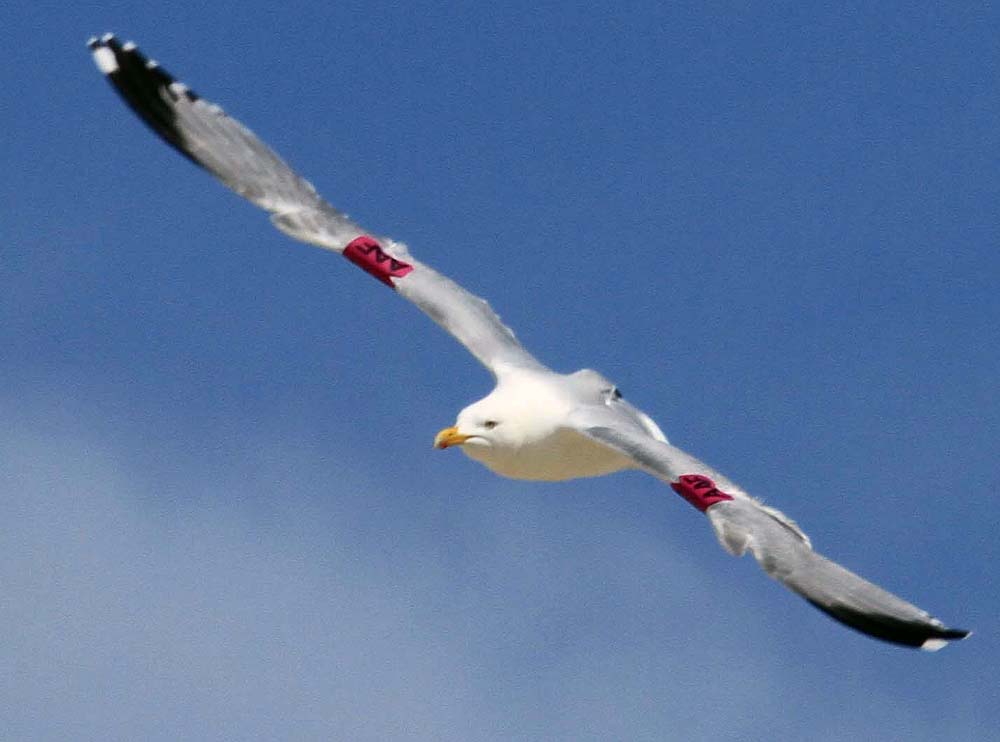 below:
AAF

October 03 2011, Beacon St. Dam Glace Bay, Nova Scotia. Picture: Allan or Cathy Murrant.

AAF, in active complete moult. P75 fully grown (tip of P7 beyond P6) and P9-P10 still old. Late moulting bird.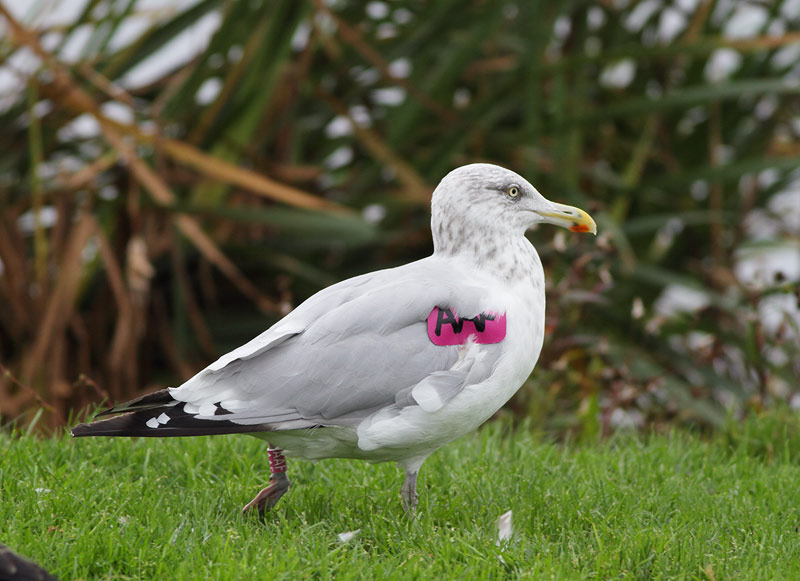 below:
AAF

January 22 2012, Hudson River - Beacon, NY. Picture: Deb Kral.

AAF stands on the frozen water of the Hudson River shoreline in Beacon, NY. Thank you to Deb Kral for this beautiful photo.

Last seen in early October at Beacon St. Dam in Glace Bay, Nova Scotia, Herring Gull AAF was seen again last week on the shorelines of Beacon, New York! (what a strange coincidence in names??) On January 22nd about 30 members of the Ralph T. Waterman Bird Club set out to Beacon, NY, to search the shorelines of the Hudson River for a rare gull. They were looking for a Slaty-backed Gull (that breeds in western Alaska) which had been spotted here just a few days earlier. Disappointingly their rare bird wasn't found that day, but while scanning through a mixed flock of Herring and Ring-billed Gulls (plus a few Great Black-backed Gulls and Iceland Gulls) they came across AAF among the crowd.

Found late in the afternoon on the shoreline of the Hudson River, Deb Kral an Jesse Jaycox, tell me this is a regular night-roosting spot for gulls. AAF was first seen that day flying over a local farmers market where it had been eating bread tossed out, then later it joined another group of gulls for dog kibbles along the road side. Deb tells me that the gulls of this area take off every morning around 7:00 a.m. and are thought to be foraging around the local prison (maybe near a garbage dump?), but return in the evenings to roost.
On the move. AAF has been Sable Island's most frequently sighted Herring Gull. October 3 and 7th found AAF at Beacon St. Dam in Glace Bay, NS. January 22nd AAF was spotted at Beacon, NY, on the shores of the Hudson River. These places are about 1250 km (770 miles) apart. As the gull flies, a journey back to Sable would be 1180 km (730 miles).