(7 images) YLG (L. michahellis) NTT8, October 2002 - July 2003, the Netherlands.
This bird was ringed on Mendes Island, NE Spain. The coverts are all juvenile. The juvenile tail, inner coverts and tertials show wear in the tips. Most scapulars are second generation but four rear lower scapulars are still juvenile. Note the very dark belly of this bird (apparently, michahellis doesn't necessarily have to show a pale belly).
Interestingly, this bird was seen early August 2002 at Hondsbosche Zeewering (about 40 km north of IJmuiden) and probably on it's way back south. On Mendes Island, Marc Bosch is running a colour-ring program and the fledglings are banded early in the season: last week of May (compared to ringing-programs in the Netherlands: end of June - first week of July). Early August, colour-ringed juveniles from the Mendes Islands were also encountered on the southern Mediterranean coast of France.
NTT8 was seen in the Netherlands until December 2002. In July 2003 this bird reappeared in Amsterdam. In summer 2004 it was seen again.
3 images below: NTT8, October 11-17 2002, IJmuiden, the Netherlands (52.27N-04.33E).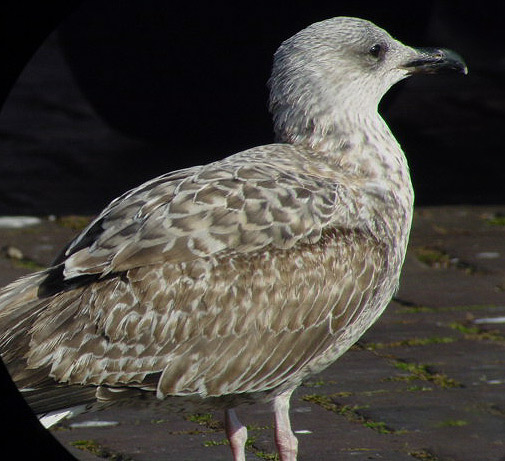 2 images below: NTT8, December 23 2002, Amsterdam, the Netherlands (52.21N-04.52E).
NTT8 has pale inner-webs of the 5 inner primaries and dark outer-webs. The inner primaries have pale tips. The general impression of NTT8 is of a rather dark 1cy michahellis, with much streaking on the head. In the left wing, three median coverts (#4, #5, #7) and four lower lesser coverts (#2, #5, #7, #9) were replaced earlier this autumn. In the right wing all the coverts are still juvenile. The mantle and the upper scapulars have all been replaced for second generation feathers and 75-99% of the lower scapulars were replaced. On the right-hand side, one upper scapular has been replaced recently, probably to third generation. The last juvenile lower scapulars can be found in the lowest row, in the rear scapulars. Head, neck and breast have been replaced as well. In the belly and the vent, about 90% has been replaced but there are still juvenile feathers in these tracts.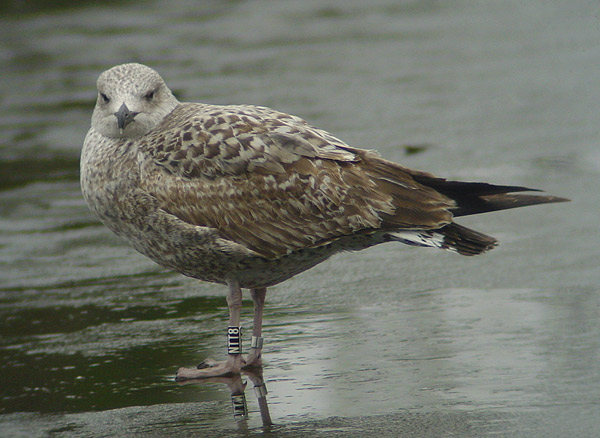 2 images below: NTT8 2cy, July 11 2003, Amsterdam, the Netherlands.
Bird seen in 1cy, 2cy and 3cy in Amsterdam. In active moult with almost all wing-coverts replaced (except the growing central greater coverts and some outer lesser coverts in the carpal edge). P6 fully grown and P9-P10 still juvenile.