Boulogne-sur-Mer (NW France): Le Portel beach & Etaples
Etaples
The area of Etaples in NW France. Etaples is a small village on the banks of the river Canche. Together with sister-town Le Touquet it's also known as "Paris-Plage", Paris Beach and host luxurious hotels and posh real estates. Etaples is known for it's fish market and is an excellent place to study michahellis Yellow-legged Gulls. It's the northern-most place in NW Europe to find michahellis with flocks of several 100's resting on the banks and beach of Etaples.
Unfortunately the gulls have to be scanned from the north bank, with backlight in the afternoon. The main resting place for gulls are the banks of the natural reserve near Camiers, which is not accessible.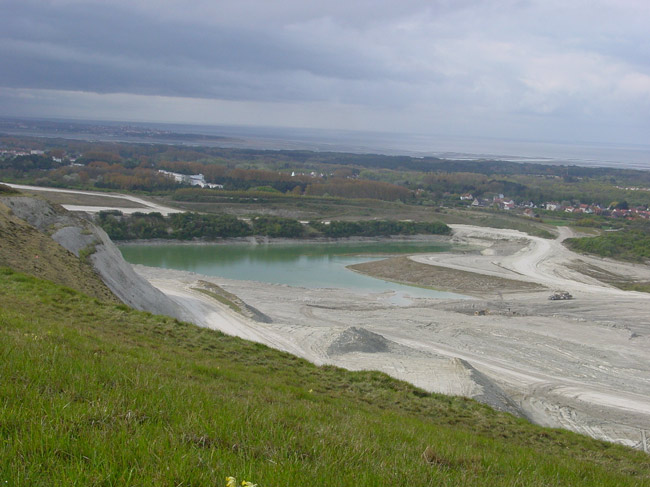 Picture of the cemetery of Dannes, taken from the hills near the landfill of Dannes. Only 4 kilometers from the beach, the landfill of Dannes attracts 1,000's of gulls during migration. Large flocks congregate at the fresh water pools of the cemetery and use the flat areas for preening. Normally this cemetery is not accessible but we are very thankful to mr. Desperras, who allowed several visits to photograph and study large white-headed gulls here. His enthusiasm, his suggestions and his open-minded views regarding the surveys are admirable.
In the far background you see the banks of the river Canche and the village Le Touquet on the south bank.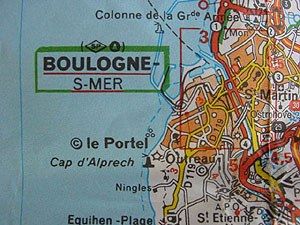 Le Portel
The coastal industrial area of Boulogne-sur-Mer includes a large emplacement and parking extending well into the sea with adjacent sandy beaches north and south of the town. The sandy beach south of Boulogne gradually merges with the large mussels fields of Le Portel and that's what make this small village famous ('Les Moulles des Portel' are high on the menu and are delicious. While staying in the Le Milano hotel-restaurant at Le Portel, enjoy the views of sunset over the beach and these mussels fields while having this specialty with a good glass of white whine and watch 100's of Mediterranean Gulls fly by!).
The cliffs and mussels fields are a well-known spot for Mediterranean Gulls in summer, which arrive from the Netherlands, Belgium, Spain, Italy and the East-European colonies.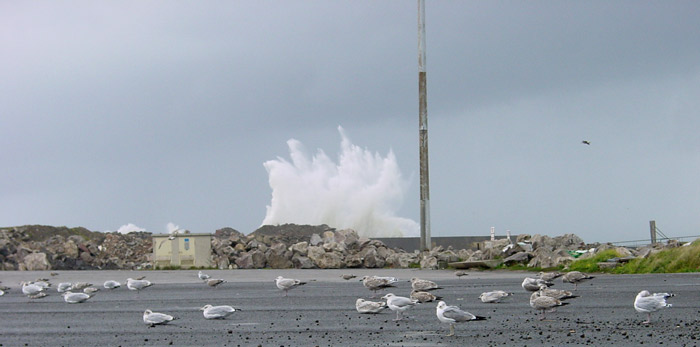 Severe storms in October. Foraging at open sea is no option and groups of gulls aggregate at the parking. Up to ten taxa of gulls can be found roosting here, together with terns and sometimes with waders.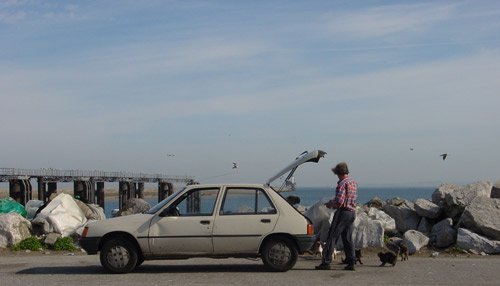 The 'catman' at Boulogne-sur-Mer. Every morning at 9:00 h. the 10's of cats of the harbour and parking are fed by the catman. And of course he doesn't forgot the begging first winter Herring Gulls. An ideal opportunity to search for Lesser Black-backed Gulls, Herring Gulls, Great Black-backed Gulls, Yellow-legged Gulls, Pontic Gulls, Mediterranean Gulls, Black-headed Gulls, Common Gulls, .....