Coordinators:
Delfín González
Gabriel Martín
Antonio Gutierrez
Amir Ben Dov
Mars Muusse

Yellow-legged Gull michahellis 1CY
CH 6258

September 02 2009, Westkapelle, the Netherlands. Picture: Ies Meulmeester.

Ringed michahellis from Italy: ringed as pullus on 14 May 2009 at Isola Palmaria Portovenere.


A rather atypical but large and bulky build 1CY Yellow-legged ringed in Italy. In the fifth and sixth pictures you can compare this gull with other large-gull species; in the fifth picture with a small female 1CY Great Black-backed Gull, note the difference in size and appearance. The tertials and a few juvenile scapulars especially on the left side show a very strange pattern, note the pale cream notched on the inner and outer web, on the tertials it's even creating an anchor pattern. On the tail-bar there's much white on the tips of the rectrices especially on the outers on both sides, so it creates a small white bar below the broad tapering black bar. But otherwise, this individual show nice 1CY michahellis features; typical reddish hue in the brown upper-parts, head and bill shape, very long pointed wings, pale pinkish colored legs and long tibias, whitish head with dark eye mask, pale window pattern on the inner primaries, black tapering tail-bar with contrasting white rump and upper-tail coverts above, dark anchor pattern on the second generation scapulars, fine dark marked pattern on the underwing coverts, etc...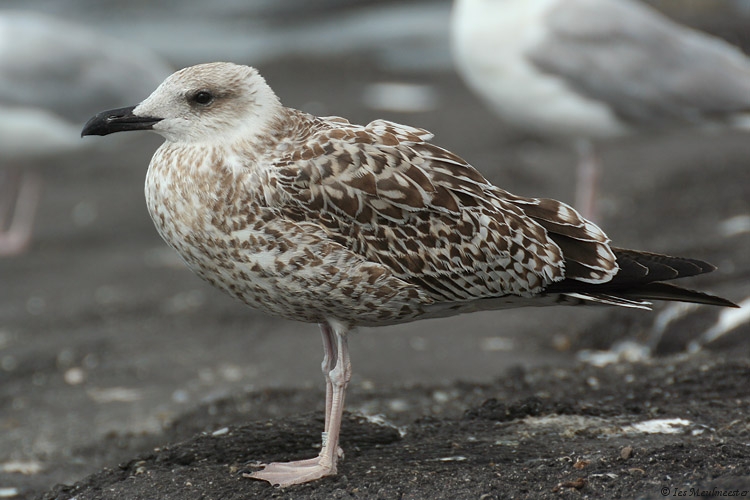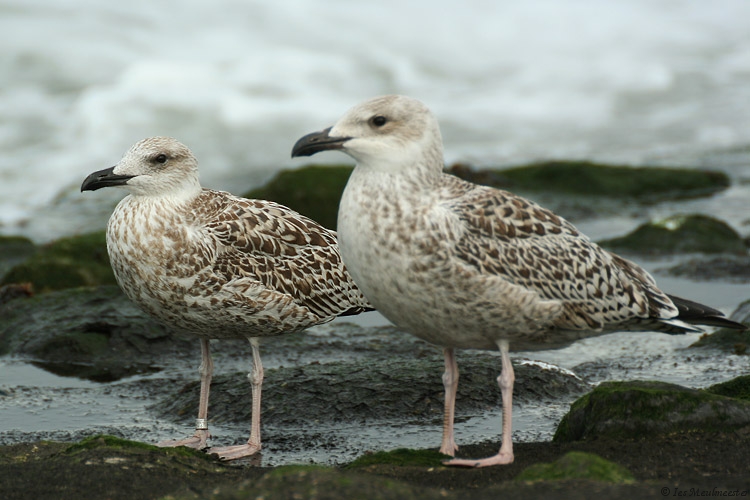 with Larus marinus.

with argenteus and graellsii.