Atlantic YLG adult May
Distribution of atlantis.
Atlantic-Cantabrian population was isolated from the Mediterranean population until twentieth century, when expansion and increase started (A. Bermejo in litt.). Increase less dramatic than in Herring (but strong in France), as mainly fish-eater, not as highly opportunistic. Mainly sedentary. Population of France, Iberia and NW Africa stays in Mediterranean or disperses to W Atlantic coast; W Mediterranean and Atlantic populations mainly sedentary. Autumn census of 10,000-12,000 moulting adults Ebro Delta, S Spain. In winter 180,000 around Iberian Peninsula, of which 30,000 NE Spain (Gerona-Va1encia) and 9,000 Galicia, NW Spain. In France max. 50,000 along Mediterranean coast, 60,000-100,000 Italy, of which 15,000-20,000 Sicily; 12,000 Algeria, 2,340 N Egypt (latter not separated from
Caspian Gull). Balkan and Adriatic population sedentary or dispersing N/ NW to River Danube (Isenmann 1973, 1976, Gallissa 1987, Glutz von Blotzheim & Bauer 1982, Meininger & Sorensen 1992, A. Corso in litt).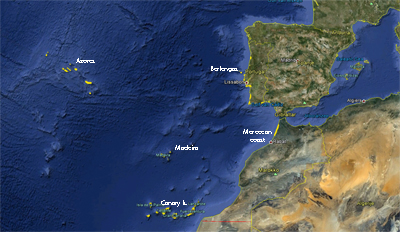 Above: distribution in the Atlantic. (click to enlarge)
Below: saltpan & cliff breeding colonies in S Portugal. (click to enlarge)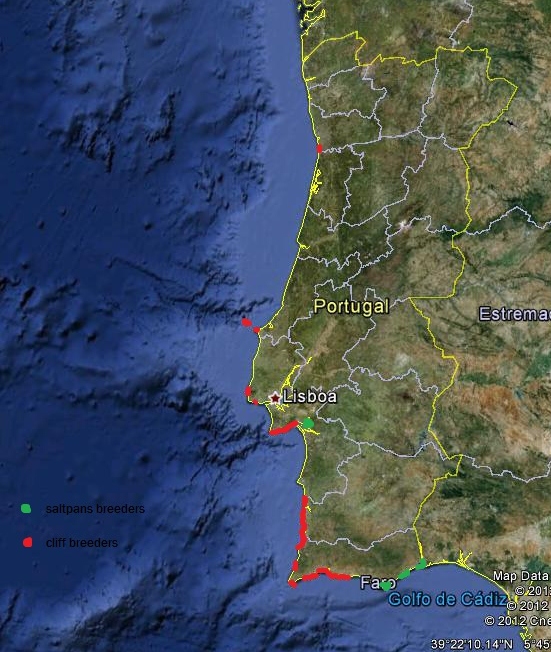 Fact sheet breeding distribution Spain. Gaviota Patiamarilla ( Larus cachinnans) / Catalán Gavià argentat / Gallego Gaivota patiamarela / Vasco Kaio hankahoria. 1998-2002, Andrés Bermejo y Jorge Mouriño.