Coordinators:
Gabriel Martín
Antonio Gutierrez
Rui Caratão
Mars Muusse
michahellis
atlantis
ring projects
PDF's
lusitanius 1cy June
lusitanius 1cy July
lusitanius 1cy Aug
lusitanius 1cy Sept
lusitanius 1cy Oct
lusitanius 1cy Nov
lusitanius 1cy Dec
lusitanius 2cy Jan
lusitanius 2cy Feb
lusitanius 2cy March
lusitanius 2cy April
lusitanius 2cy May
lusitanius 2cy June
lusitanius 2cy July
lusitanius 2cy Aug
lusitanius 2cy Sept
lusitanius 2cy Oct
lusitanius 2cy Nov
lusitanius 2cy Dec
lusitanius 3cy Jan
lusitanius 3cy Feb
lusitanius 3cy March
lusitanius 3cy April
lusitanius 3cy May
lusitanius 3cy June
lusitanius 3cy July
lusitanius 3cy Aug
lusitanius 3cy Sept
lusitanius 3cy Oct
lusitanius 3cy Nov
lusitanius 3cy Dec
lusitanius 4cy Jan
lusitanius 4cy Feb
lusitanius 4cy March
lusitanius 4cy April
lusitanius 4cy May
lusitanius 4cy June
lusitanius 4cy July
lusitanius 4cy Aug
lusitanius 4cy Sept
lusitanius 4cy Oct
lusitanius 4cy Nov
lusitanius 4cy Dec
lusitanius adult Jan
lusitanius adult Feb
lusitanius adult March
lusitanius adult April
lusitanius adult May
lusitanius adult June
lusitanius adult July
lusitanius adult Aug
lusitanius adult Sept
lusitanius adult Oct
lusitanius adult Nov
lusitanius adult Dec
1cy: August
Introduction
D. LIEBERS, A. J. HELBIG and P. DE KNIJFF are the authors of the 2001 paper "Genetic differentiation and phylogeography of gulls in the Larus cachinnans-fuscus group (Aves: Charadriiformes)", published in: Molecular Ecology (2001) 10, p 2447-2462. They placed lusitanius in the Atlantic / Mediterranean group, of which atlantis is the ancient taxon. Michahellis has a more shallow haplotype phylogeny and lower nucleotide
diversity than atlantis. Within the michahellis range there is no significant geographical substructure, whereas there is significant differentiation between most of the five atlantis colonies analysed. Among gulls of the Atlantic islands and mainland coasts the authors found an unexpected north-south pattern of differentiation: the Azores population was similar to that of the Iberian Atlantic coast (1350 km away), but was significantly differentiated from the Madeiran (900 km distant) and mainland Moroccan breeding birds (Table 5a in PDF). Since most michahellis haplotypes are either identical or closely related to those of "northern" (Azores, mainland Iberia) rather than "southern" (Madeira, Morocco) atlantis populations, it seems that the latter contributed few colonizers to the Mediterranean.
Despite the close relation between atlantis from the Azores and lusitanius from Berlengas/Galicia, we find much differences in phenotypics between these two taxa. We therefore have split lusitanius from atlantis on this website, and choose to include birds from Madeira, the Canary Islands and breeding birds from the Morrocan Coast in the section on Azorean atlantis.
Juvenile plumage
1cy birds in August, still in (complete) juvenile plumage. Below, to compare juvenile michahellis and graellsii.
Above: Lesser Black-backed Gull graellsii 1cy 824N, August 22 2008, Calais, NW France. Picture: Jean-Michel Sauvage. Ringed as pullus on 12 July 2008 at "Umicore" Calais, Pas de Calais, NW France.
below: Yellow-legged Gull michahellis 1cy HES M.025982, August 27 2012, Katwijk, the Netherlands. Ringed on 09 May 2012 at Fanel, Switzerland (46.58.58N, 007.02.11E).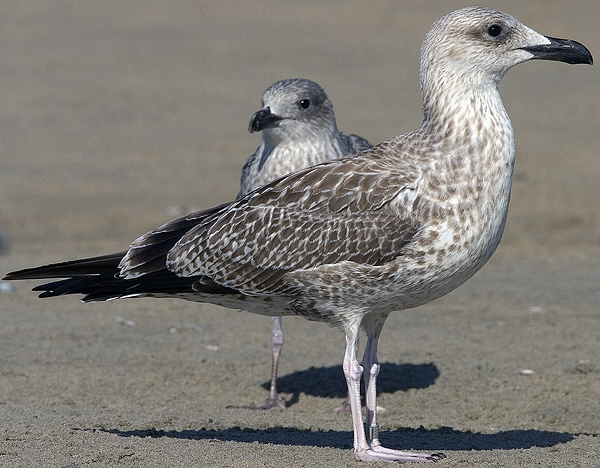 below: Atlantic YLG (atlantis) 1cy, August 24 2010, São Miguel, Azores Islands. Picture: Richard Lowe. Typically, michahellis tail has single sub-terminal band on outerweb of R6; but often multiple in atlantis, like this individual.