Coordinator:
Albert de Jong
Merijn Loeve
Roland-Jan Buijs
Thijs Horst
Leon Kelder
Mars Muusse
Caspian Gull cachinnans

F0

1CY, May 14 2021, De Kreupel nest KK 21, the Netherlands. Picture: Leon Kelder.
Pale blue tibia ring p[F0], ringed as pullus Larus cachinnans-type on May 14 2021 at nest KK 21 in colony De Kreupel island C, the Netherlands.
ID uncertain: one parent is Caspian Gull cachinnans r[K.K], other parent unknown.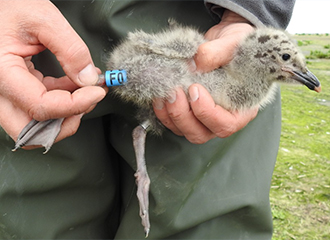 Date:
details:
egg no:
width (mm):
length (mm):
volume (cm3):
9-4-2021
1 egg in nest, cold.
https://waarneming.nl/observation/210432243/
A egg
50.0
72.5
23-4-2021
3 eggs in nest.
egg no:
width (mm):
length (mm):
volume (cm3):
B egg
51.6
74.0
C egg
49.1
68.9
A egg
50.0
72.2
metal:
tibia:
wing:
head + bill:
bill:
Adult male trapped at nest.
NLA 6.211.444
Red-K.K
459.0
124.2
53.8
mass:
tarsus:
moult score:
bill height:
grey scale
Swob
994
69.5
10x0
18.0
5.5
1086
14-5-2021
3 chicks in nest.
metal:
tibia:
mass (gr):
head + bill:
tarsus:
https://waarneming.nl/observation/214661812/
NLA 5.556.710
Pale FN
115
57.3
33.8
NLA 5.556.711
Pale F0
223
67.4
43.6
NLA 5.556.712
Pale FP
211
67.6
44.4
20-5-2021
3 chicks in nest.
metal:
tibia:
mass (gr):
head + bill:
wing:
5556710
Pale FN
321
72.2
56.5
5556711
Pale F0
517
85.2
94.5
5556712
Pale FP
506
84.0
90.0