Coordinator:
Albert de Jong
Merijn Loeve
Roland-Jan Buijs
Thijs Horst
Leon Kelder
Mars Muusse
Caspian Gull cachinnans

B.4

1CY, May 28 2021, De Kreupel - H, the Netherlands. Picture: Leon Kelder.
Red tibia ring r[B.4], ringed as pullus Larus cachinnans on May 28 2021 at nest H01 in colony De Kreupel, the Netherlands.
ID is certain: both parents are Caspian Gull cachinnans.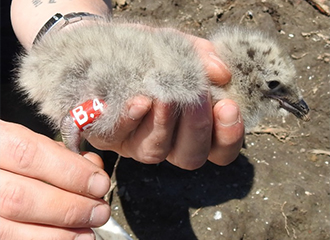 | | | | | | | |
| --- | --- | --- | --- | --- | --- | --- |
| Date: | details: | | | | | |
| | | | | | | |
| 28-5-2021 | 2 unringed adult Caspian Gull cachinnans at soil stockpile. | | | | | |
| | 3 pulli in nest. | metal: | tibia: | mass (gr): | head + bill: | tarsus: |
| | https://waarneming.nl/observation/215268851/ | NLA 5.556.772 | r-B.3 | 180 | 64.1 | 37.3 |
| | | NLA 5.556.773 | r-B.4 | 133 | 58.7 | 37.5 |
| | | NLA 5.556.774 | r-B.5 | 270 | 70.8 | 53.5 |
| | | | | | | |
| | | | | | | |
| 11-6-2021 | 1 pullus near nest. | metal: | tibia: | mass (gr): | head + bill: | wing: |
| | https://waarneming.nl/observation/216987621/ | NLA 5.556.774 | r-B.5 | 805 | 104.4 | 190.5 |
| | | | | | | |
| | | | | | | |
| | | | | | | |
| | | | | | | |
| | | | | | | |
| | | | | | | |