American Herring Gull adult June
Dutch ornithologists measured and described a large sample of Dutch birds in a mixed colony of Lesser Black-backed Gulls (Larus fuscus graellsii) and Herring Gulls (L. argentatus argenteus). This sample of 315 breeding Herring Gulls was photographed and allows comparison to the research done by Bruce Mactavish & Peter Adriaens.
European Herring Gull Larus argentatus argenteus at Moerdijk, the Netherlands.
In what way do Dutch Herring Gull resemble American Herring Gull (L. smithsonianus)? Starting point is the article in Dutch Birding by Bruce Mactavish & Peter Adriaens.

Winter American Herring Gull at Rochester, New Hampshire, USA, 26 December 2007, image Mike.
Peter and Bruce mention these features for adult birds:
.1: P10 should have a broad rectangular tongue, combined with a complete sub-terminal band; as is shown in the picture above.
.2: P5 should show a complete black "W".
.3: And a few extra's, which add to the ID: bayonets (black continues along the feather edge, white 'moons' (tongue tips are white between grey centre and black sub-terminal band), and also a black "W" on P6.
First, for the Moerdijk birds, we have checked if the smithsonianus-pattern for P10 & P5 did occur in this population:
ad 1: A complete sub-terminal band on P10 can be found in 27% of the Dutch Herring Gulls (85 birds out of 319). But only 9 birds (3%) combine this complete sub-terminal band with a rectangular corner in the medial band.
ad 2: The P5 "W" was recorded in 26 birds.
The combination for P10 & P5 was more or less pretty okay in HG mVZ & HG oHE.
Below: Herring Gull mVZ:
+ P10 ends more or less rectangular at the medial band. P10 details.
+ P10 has a complete black sub-terminal band. P10 details.
+ P9 mirror confined to inner web. P9 details.
+ P5 has a "W" sub-terminal band.
- No obvious white tongue tips.
- No bajonets on P6-P7
- No real "W" on P6.
European Herring Gull Larus argentatus argenteus, adult, 16 May 2005, Moerdijk, the Netherlands (Mars Muusse). A difficult bird, and therefore a good illustration of why the criteria need to be very strict. This one is close to meeting the minimal requirements for Newfoundland Herring Gull L smithsonianus. Note, however, that the pattern on P6 is not typical (compare with figure 9; the black band tends more towards pattern 9b than 9a, as it is more asymmetrical – clearly more black on the outer web than on the inner web –, with a distinct 'step' on the shaft, and is less pointed along the outer edge; especially the step on the shaft is wrong for NF smithsonianus).
There are no obvious 'bayonets', only an indistinct one on the outer web of p8. The outer web of p9 is entirely black all the way up to the primary coverts (note that at least one primary covert is missing at the base). Note also the disproportionate amount of black on p5: there is a rather thick black spot on the outer web, but nothing on the inner web. This pattern corresponds with figure 10e, which is shown by only a few NF smithsonianus (2%).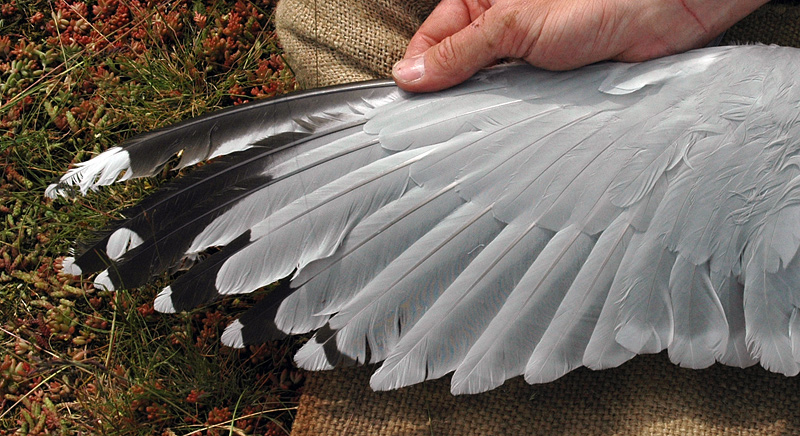 Below: Herring Gull oHE:
Continue at: SECOND SET OF FEATURES for smithsonianus.