Coordinator:
Greg Neubauer
Marcin Przymencki
Albert de Jong
Mars Muusse
3cy cachinnans: January
From 07-10 October 1999, the 4th International Gull Meeting was organized by Ted Hoogendoorn, Dirk Raes and Pascal Raevel at Le Portel, Pas-de-Calais, France. Pierre Yésou was one of the speakers, with his talk titled "Phenotypic variation and systematics of Mongolian Gull". Pierre visited Mongolia already in May-June 1992. After his 1999 talk, he was asked to write an article for the magazine Dutch Birding. Below is a copy of that aricle, now enriched with many extra pictures from the region.
"I" in the text below refers to the original author, Pierre Yésou. If any errors occur in this text, please let me know and mail to marsmuusseatgmaildotcom.
Phenotypic variation and systematics of Mongolian Gull
IN: Dutch Birding 23: 82, 2001
BY: Pierre Yésou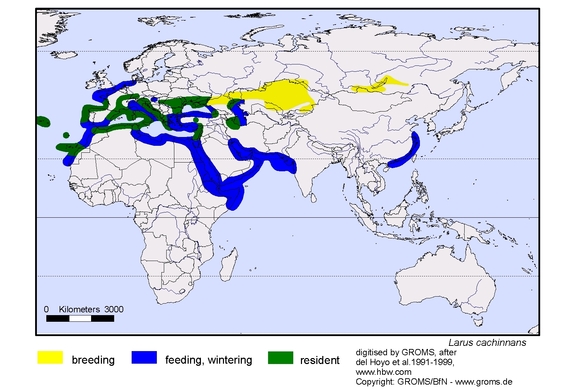 Distribution of southern 'Herring Gulls', in Russia birds from the steppe belt:
atlantis - lusitanius - michahellis - armenicus - ponticus - cachinnans - barabensis - mongolicus.
BELOW: PART 1: DISTRIBUTION AND NUMBERS
Since Peter Grant's pioneering work (cf Grant 1982, 1986), the knowledge of the identification and phenotypic variation of the gull taxa belonging to the Larus argentatus-cachinnans-fuscus complex has dramatically increased in Europe. Initially, this progress benefited from studies conducted on breeding grounds where mixed gull colonies allowed the comparison of different taxa (eg, Dubois & Yésou 1984). Then, the development of colour-ringing schemes gave multiple opportunities to study the appearance of birds of known origin, sometimes at a great distance of the ringing site. Particularly remarkable was the case of Pontic Gull L. (cachinnans) cachinnans of which the field characters were first established from birds ringed in Black Sea colonies and subsequently observed in Germany during the winter season (Klein 1994, Gruber 1995). However, because only a small number of birds at the limit of the species' winter range had been studied, the phenotypic variation found was not representative for the species. Therefore, further studies of birds on the breeding grounds were needed to describe in detail the phenotypic variation of this taxon (Klein & Gruber 1997, Liebers & Dierschke 1997).
The identification of the other taxa breeding in the former USSR remains far less easy as most descriptions, based on birds seen on the breeding grounds, are anecdotal (eg, Pleske 1928, Dement'ev 1951) or even disputable. (Unfortunately, according to knowledgeable Russian ornithologists, the review by Judin & Firsova (1990) is far from giving a reliable account of the argentatus-cachinnans-fuscus complex and will not be considered here.) Also, although the skin collection in the Natural History Museum at Tring, England, has been a reference for decades, it now suffers from the doubtful validity of the Meinertzhagen collection (British Ornithologists' Union 1997) and the erroneous labeling of some skins (Lars Jonsson pers comm). The collections in Russian museums harbour rich reference material but have rarely been visited by western gull students. Moreover, very few western observers have experience with the Asian taxa on their breeding grounds (eg, Liebers & Dierschke 1997, Yésou & Hirschfeld 1997).
Further, the identification of the Asian taxa at migration stopovers and on wintering grounds still remains speculative in many cases. For instance, birds looking as dark mantled as Lesser Black-backed Gull L. graellsii used to be identified as Mongolian Gulls L. (c.) mongolicus in Hong Kong (Kennerley 1987) but are now called Taimyr Gulls L. (heuglini) taimyrensis there as well as in Japan (Kennerley et al 1995, Hoogendoorn et al 1996) although the only Asian taxon with such a dark mantle is the western Siberian Heuglin's Gull L. (h.) heuglini (Yésou & Hirschfeld 1997). Detailed descriptions based on birds studied on the breeding grounds are available for only two Asian taxa, ie, Armenian Gull L. armenicus (eg, Buzun 1993, Filchagov 1993, Liebers & Helbig 1999) and Baraba Gull L. (c.) barabensis (Panov & Monzikov 2000, who suggested that this taxon is a subspecies of heuglini), and are therefore still needed for the other Asian taxa.
In this article, the phenotypic variation of adult mongolicus is described and its systematic implications are discussed, It is mainly based on studies of birds in colonies at Lake Baikal, Siberia, Russia, in the spring of 1992 (24 May-30 June) and of skins at the Moscow Zoological Museum, the Zoological Institute of St Petersburg and the field station of the University of Ulan Ude in the Selenga delta, Lake Baikal. Moreover, I benefited from the experience and guidance of Sergey Pyzhianov who has been studying colonies of mongolicus at Lake Baikal for years (and who has developed an efficient trapping technique for ringing mongolicus, by putting oechloraline baits at the nest), allowing me to visit all main colonies, except those in marshes at the north end of the lake, and to handle more than 150 adult birds.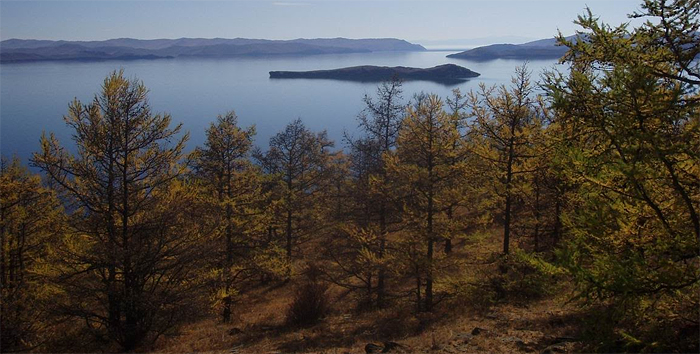 The island Toinïk (or spelled Toynak, 53,04N, 106,50E), home of c 1000 pairs of mongolicus in the region.

Part of Bolshuye Toinik, Maloye More, northwestern Lake Baikal, Siberia, Russia, May 1992 (Pierre Yésou. This island holds main colony of Mongolian Gull Larus (cachinnans) mongolicus (c 1000 pairs). Egg laying starts on c 05 May when ice still covers large parts of Lake Baikal. Temperatures of below 0°C regularly occur at night up to mid-June. Water surface temperature is still below 10°C by late June, except in some sheltered coastal bays.

Mongolian Gull Larus (cachinnans) mongolicus, Maloye More, north-western Lake Baikal, Siberia, Russia, June 1992 (Pierre Yésou).
Distribution and numbers
Mongolicus has a patchy breeding distribution, ranging from south-eastern Altai to north-eastern Mongolia and the western part of north-eastern China (Dement'ev 1951). The isolated breeding population of 'Herring Gulls' at Lake Khanka, situated at the border of easternmost China and Far Eastern Russia, has also been claimed to belong to this taxon (Pyzhjanov & Tupitsyn 1994) but no systematic study of this population has been published so far.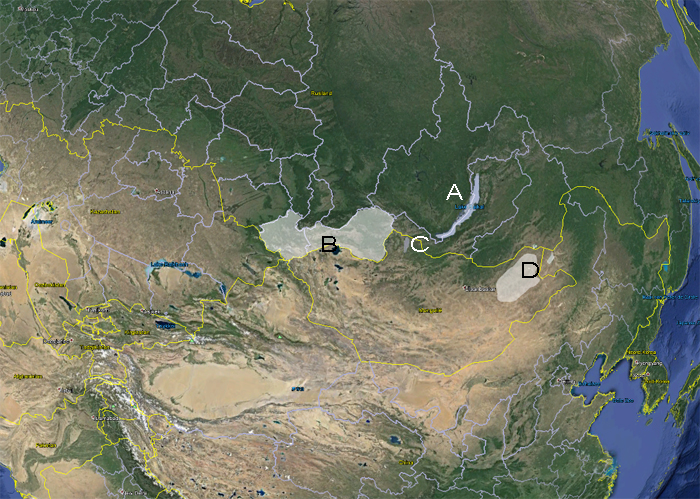 A= Lake Baikal, B= Tuva & Altai, C= Lake Khubsugul, D= Hukun Nuur & Toresiskie Lakes.
According to Pyzhjanov & Tupitsyn (1994) and Pyzhianov (1996), only 750-1200 pairs are breeding in Altai, western Mongolia and Tuva (Tuvinskaya) Autonomous Region. There are c 3600 pairs at Lake Khubsugul in northern Mongolia and c 7200 pairs at Lake Baikal. The lakes of Transbalkalya (Toresiskie Lakes) and north-eastern Mongolia and Hukun Nor in nearby China harbour 7500-10 000 pairs, The total population of mongolicus is estimated to be only 19 000-22 000 pairs (excluding the population of 'Herring Gulls' at Lake Khanka), ie, less than 100 000 birds (including immature and non-breeding birds). Mongolicus is clearly a scarce gull.
Birds ringed at Lake Baikal have been recovered on the Pacific coast of Russia in autumn, suggesting an eastward overland migration route after the breeding season (Sergey Pyzhianov pers comm). The entire population probably winters in coastal south-eastern Asia. Mongolicus has indeed been positively recorded in Hong Kong, Japan and South Korea (Kennerley et al 1995, Hoogendoorn et al 1996, Lethaby et al 2000). It has been claimed in Pakistan by Roberts (1991) who relied only on bare-part coloration, a character of little or no diagnostic value in this case (Yésou & Hirschfeld 1997). Therefore, the occurrence of mongolicus in western Asia remains undocumented.
In spring 2004 a German team of ornithologists (coordinator Andreas Buchheim) ringed and wing-tagged a total of 170 adult (including a few subadults) Mongolian Gulls mongolicus in north-eastern Mongolia. The major aim of this activity was to get information about migration routes and wintering grounds of this little-known taxon. Each bird was ringed with a metal band on its right tibia. To ensure specific and individual recognition the birds were additionally fitted with white wing tags showing an individual black four-character-code: the upper row consisting of two capital letters and the lower row of a two-digit number.
By 2012, ringing activities and research was done under "Birding Mongolia" with 240 gull ringed in 2012, bringing the overall number of wing-tagged Mongolian Gulls to 870.
Andreas requests birders along the Asian coasts to take notes on any "large white-headed gulls with wing-tags". Check the area between the front-scapulars and the wing-bend; tags can be read from distances of up to 300m with a spotting scope. Recoveries can be mailed to abu.cachellis@web.de and you will receive all data regarding your bird!

Wing-tagged Mongolian Gull AB48 and metal DEH 4059948. By November, P10 was still growing. It was ringed as 5CY on May 27 2004 at Khökh Nuur (49°32'N, 115°31'E, picture below left). Photographed by Kim Hyun-tae on November 11 2007 in Hongsong Chungnam, S Korea (36°32'N, 126°28'E, picture below right).
Sub-adult (5CY) AA63 upperwing, May 24 2004, Khökh Nuur (49°32'N, 115°31'E). Picture Thomas Langenberg. Note black in alula. Recorded in winter on February 02 2006 at Nakdong estuary, S Korea (35°03'N, 128°55'E, picture below left) by Nial Moores, a distance of 1940 km.
Below: Wing-tagged Mongolian Gull AG33 and metal DEH N007633 / metal RUM C435633, ringed as adult on May 29 2008 at Lake Baikal, Toynak Island (53°04'N, 106°50'E). In winter photographed by Nial Moores on January 01 2009 at Geum River near Gunsan Chungnam, S Korea (35°59'N, 126°44'E, picture above right). Large flock of mongolicus on Geum River, distance of 2450 km from Toynak island in Lake Baikal.

Above: Wing-tagged Mongolian Gull 25CY AC82 March 23 2013, Jinzhou Bay, Dalian (39°06'N, 121°39'E, picture above right). Photograph by Bai Qingquan. Originally ringed as pullus on June 25 1989, at Toynak island in Lake Baikal. It was subsequently caught again as an adult bird on May 20 2005 at Airchan Nuur, Mongolia, when the metal leg ring was replaced and a wing tag ("AC82″) attached. Qingquan's sighting is the first since the tag was fixed in 2005 and, with the original ringing data from Russia, proves that this bird is almost 24 years old (25CY)! More info: see Birding Beijing Blog.
End of PART 1 of "Phenotypic variation and systematics of Mongolian Gull"
CONTINUE PART 2: PHENOTYPIC VARIATION

Larus cachinnans? 3CY
PVSV
January 09 2013, Ashdod, Israel (31°50'52"N 034°42'25"E). Picture: Amir Ben Dov.
From: Selitba Lake, Penza oblast, Russia, central point of the lake: 53°10'11.04"N, 46°50'9.84"E.